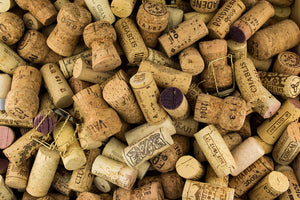 Recycled Wine Corks GRAB BAG Champagne / Synthetic / Natural

Great for up-cycling, general crafts, home decor, school projects and more!
What can you use them for?
Make coasters, monogram letters, wine cork walls, bulletin boards, little cork creatures, gifts tree ornaments or even just filling an empty vase and more.  The possibilities are endless!
Great for Weddings decor, reservation table holders and more!
DIY Home Decor for the Holidays include Christmas wreaths, Monogram Letters and Words, Purposeful Bathmats
Assorted Printed Wine Corks - Used Wine Corks and/or Factory Seconds
All corks are re-purposed (recycled) Wine Corks. This grab bag has synthetic (plastic) wine corks, Champagne Corks and Natural Corks
All corks are sorted to provide a nice variety. We cannot guarantee any specific brand or winery in the package!
Lengths of corks vary.
Package:
Recycled Wine Corks GRAB BAG Champagne/Synthetic/Natural.  Please note: the corks pictured are just examples.  This will be a completely random set of corks including Synthetic, Natural and Champagne Corks!